HUMAN CONNECTION AS PART OF THE HYBRID EXPERIENCE
Anne Gibson of NELSON Worldwide explores the importance of human connection in the workplace – regardless of how much you're actually in the office.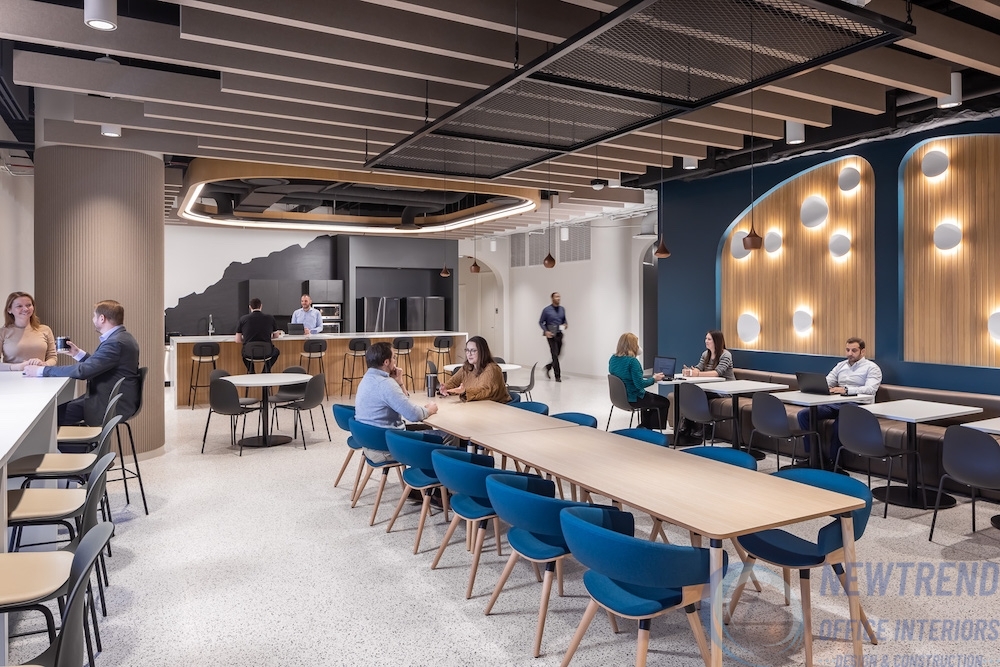 The switch to remote work during the pandemic made it clear that it is possible to be productive and engaged when not in the office. Hybrid schedules continue dominating the workplace and are here to stay. While the execution of these hybrid work models vary depending on the industry, gathering in person has a new significance now – human connection.
Micro-human interactions are scientifically connected to human development, yet they are gradually decreasing from our day-to-day lives with the uptick of digital experiences, from meal delivery apps to self-checkout and endless Zoom calls. As more employers adopt long-term hybrid work models, they must acknowledge how reduced human interaction has shaped the hybrid experience, and seek out solutions that give new meaning to the office's in-person aspect – how do we create desire for employees to be part of the physical experience, and how can it contribute to a strong company culture?
Include Employees In the Design
Inclusive design means more than just creating spaces that consider how we live and work, it's also a physical enactment. Viewing the office as a reconfigurable and modular prototype – and approaching it with a beta-mindset that evolves after move-in – makes employees feel like they can give input.
Not only does including employees in the design drive human interaction, it also allows them to create the space for themselves and their needs. When employees are invited into the dialogue and process, it helps them feel a part of the experience, allows them to test out the space to see what is and isn't working, and helps build company culture and trust. This physical collaboration ultimately brings teams together to solve problems.
We need to understand how teams work together before creating spaces that support those work modes so all employees feel productive and engaged. Allowing the office environment to be able to change at a moment's notice, from adjusting the color of a phone booth from orange to blue for relaxed, focused work to turning up the heat to make a room more comfortable, is a simple adaptation that is super helpful for getting employees back to the office as they're able to do this in their own homes.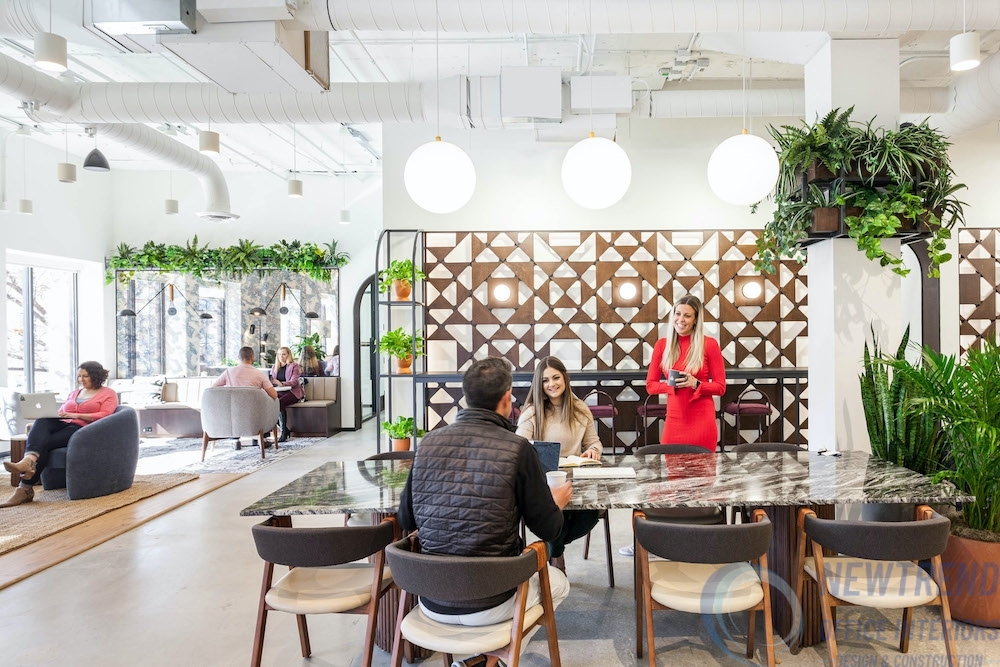 Introduce Wellness Amenities
Having design elements such as dimmable lights, daybeds, outdoor areas like roof decks and terraces, mobile charging stations, and spaces to support religious practices and new parents is something that the workforce is looking for in today's landscape, encouraging them to come together and utilize the office space more often.
Even in northern climates, we are seeing companies adopt outdoor space, from repurposing unused square footage to building full terraces of different sizes with varying views. On the heels of the pandemic, employees have gotten used to taking breaks outside regardless of the weather, so outdoor huddle rooms and gathering spaces with heaters are now commonplace.
Wellness rooms are standard, too, as are non-gendered bathrooms, specialized mother's rooms, and spaces that are intentionally designed for decompression, meditation, and relaxation, signaling to employees that it is ok to have that kind of break while you are in the office. What we've learned from people working from home is that their increased productivity is often attributed to working more efficiently. This may be due to more frequent rejuvenation breaks like going for a quick walk with the dog, stretching, or simply relaxing without being interrupted. By designing spaces to support these refreshing activities, it shows employees that the organization is moving toward a culture of wellbeing and into inclusivity, like those outfitted with foot washing stations, allowing employees to honor their authentic selves and be seen for who they are.
Encourage Storytelling
As humans, by nature, we want to belong to something. While the new wave of hot desks and communal spaces means you can choose where you want to work, it can be harder for people to feel a sense of belonging as they don't have their own desk with personal items to anchor them. To combat this, it's important to give people the opportunity to share their stories, listen to others, learn about the organization and create their own new experiences.
There are a few simple ways to amplify employees as individuals while also making them feel a part of a collective. One of our favorite methods is to organize around a theme, solicit feedback from each team member, and then incorporate it into a cultural piece. Take, for example, a place on your travel bucket list. People are able to leave their mark by sharing a photo of their favorite place, which then resides on a "living wall" of sorts that changes periodically. That wall becomes a part of the culture, bringing people together and poetically iterating that everyone is valued and a part of a bigger mission. It's no different from securing a lock on a bridge in France or leaving gum on the wall in Seattle. It becomes a story you share with others; a way you've made your mark.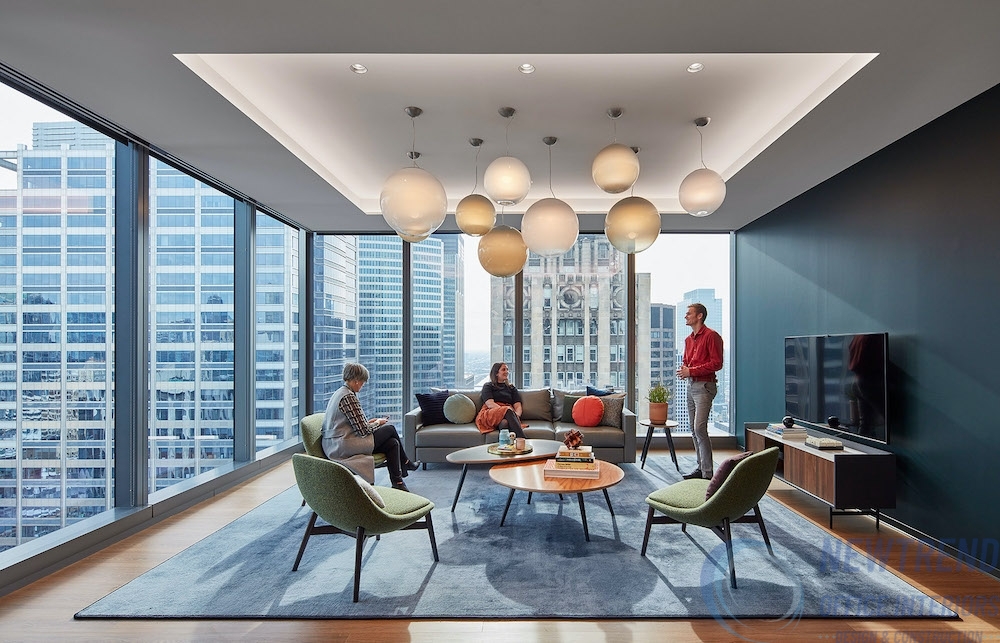 Create Spaces For Learning
In a time when many workers are changing jobs or even careers, flexible spaces that allow for hybrid and in-person training can link the two together in terms of culture, onboarding, and building social capital are in high demand. While you can create these different spaces to encourage collaboration and socialization, unless it is thoughtfully programmed, it may remain unused. A public gathering space can easily be activated by offering TED-style talks and roundtable discussions if it's intentionally designed for learning. Developing programs that draw people together, whether it's from a social or education perspective, is critical as we embrace a hybrid work model.
Likewise, communal spaces can be both flexible and adaptable enough to offer different work experiences. In the morning, a room might be organized for focused work, but by the afternoon, walls or panels can shift and open, allowing for a larger space that can offer serendipitous interactions between colleagues – an experience you can't have from home.
As the hybrid model becomes further operationalized, it's important to really take advantage of the time when people are together and put an organization's resources into making sure that time is spent valuably.
Address: Floor 3, An Phu Plaza Building, 117-119 Ly Chinh Thang, Ward 7, District 3, HCMC
Phone: 0973.966.888
Email: info@newtrendvn.com.vn
Facebook: Newtrend
Website: https://newtrend.vn/
---